Poem by Ogden Nash
Photo by Milli 2008
Peekabo, I Almost See You
Middle-aged life is merry, and I love to lead it,
But there comes a day when your eyes are all right but your arm

isn't long enough to hold the telephone book where you can read it,
And your friends get jocular, so you go to the oculist,
And of all your friends he is the joculist,
So over his facetiousness let us skim,
Only noting that he has been waiting for you ever since you said

Good evening to his grandfather clock under the impression

that it was him,
And you look at his chart and it says SHRDLU QWERTYOP, and

you say Well, why SHRDNTLU QWERTYOP? and he says one

set of glasses won't do.
You need two.
One for reading Erle Stanley Gardner's Perry Mason and Keats's

"Endymion" with,
And the other for walking around without saying Hello to strange

wymion with.
So you spend your time taking off your seeing glasses to put on

your reading glasses, and then remembering that your reading

glasses are upstairs or in the car,
And then you can't find your seeing glasses again because without

them on you can't see where they are.
Enough of such misshaps, they would try the patience of an ox,
I prefer to forget both pairs of glasses and pass my declining

years saluting strange women and grandfather clocks.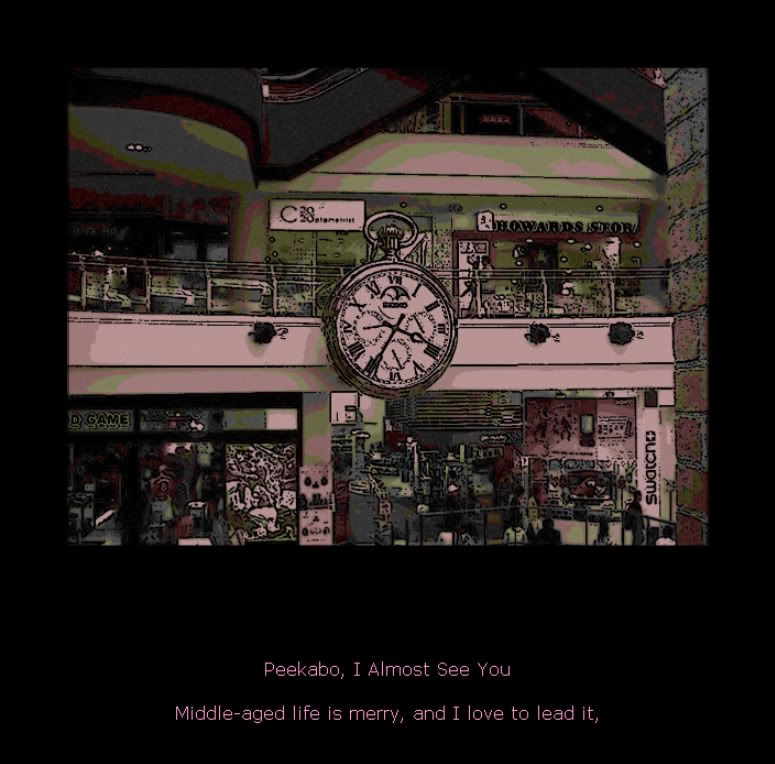 I love the way Ogden Nash writes about life in his poetic way and this particular poem suits me because I must have my eyes checked and buy new glasses. I have a confession and it is, I place my glasses in my pocket and then forget they are there, only to sit down and you guessed it...give them a right royal squash.
I did enjoy this take on middle age written by Mr Nash and if you click on his name, at the top of this post, you can read more about him.
I found some great poems of his here too.
"... my field -- the minor idiocies of humanity"

The photo was taken by myself in Melbourne Central and I made a few adjustments for this post. I hope that you like the Huge Seiko clock which was gigantic actually and even I could view it well...LOL

Take the Poetry Wednesday Tour from Here.