I love Frogs.
Frogs are such fun. A little Frog has hopped back into our pond in the front garden again and continues to croak throughout the night. This never bothers me although I know some people do not like frogs nor do they like their croaking sounds. I on the other hand being a little girl of nature way back when, loved my little excursions to the local creek in search of frogs and tadpoles with my friends and sibblings.
Today's Photo Of The Day is a Fun photo of Frogs Just Hangin with each other in The Fair Ground.
I like the new way of posting in Multiply and thank the Multiply people for making posting more pleasurable in this new format.
As a Little Bonus I have added a little froggy quiz. If you want to have some fun then just try it out ad come back and let me know what
Kind of Frog You Are...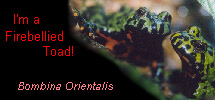 These colorful toads are very active and fun for beginner pet owners. They enjoy spending their day swimming and singing with other frogs of their species and become more active when not alone. Weird fact: Firebellied toads cannot extend their tongues like other toads or frogs. To feed, they must leap forward and catch their prey with their mouths. After they have grabbed a cricket or worm with their mouth, they usually use their fore-arms to help stuff food the rest of the way in. Then they squish their eyeballs down in their heads to push the food into their throat.
Oh and before I go a little frog joke.
A beautiful princess was walking in the forrest by a stream when she noticed a little frog wearing a crown on his head.
As she bent down she spoke softly to him and said.
" You are a handsome prince just waiting for your special princess to kiss you and make you human again."
With that the Frog Jumped back suddenly exclaiming loudly..
" NO! NO! You can not do that because I am now a respectable and happily married frog with hundreds of little frog children."
This cute joke puts another slant on the story of the Frog Prince. It seems there are advantages in being a Frog Prince after all.
Milli.