OH Happy Days....sing with me...
The Milli Chronicles or entries into my visit to Transylvania, of the cyber kind.
So with out further Adieu I bring to you
Day One.
T' was a Dark and Gloomy night.
Aww forget that, this is the Halloween Happy Hour.
HHH to all you Newbies.
So let me begin.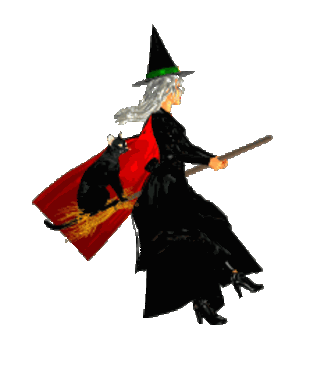 Kathys-Comments.com
I arrived none the worse from my bumpy broomstick ride.
Knowing full well that I should have spent more money on my stick padding than I did. I found about half way here and I am guessing because the odometer is not working, that would have placed me somewhere above Africa, I had developed a carbuncle on my derriere. Franz my cat also suffered from frozen fur syndrome.
This will be very difficult for him because he will take many days in the sun now to thaw out. Franz does not like the sun.
Boris met me as I touched down and parked my vehicle in the broomstick cupboard. An amazing place is this castle. Dark and gloomy and full of the best spiders webs I have ever seen. Lucretia Borge eat your heart out. OH! Did I say that HEEHEE. The locals around here say that the castle is haunted and talk about the deadbeats up on the hill. Personally I find it a very appealing and homely place.
My welcome went well and I took the grand tour. Boris is the hottest host with truly the most wicked smile. He tells me that tonight we will all gather in the garden for a frank discussion with the guest of honour himself Lord Frankenstein!
Below whereI toured a a local bat's cave.
I am sure that this entertaining evening will turn into a very meaty conversion, oops I mean conversation.
So for now I sign off and settle in for an afternoon nap. The night I am sure will be a long one.
"Franz! here Franz, mummy is calling you..
Come on now Franz, drop that bat there, he may be a guest."
Ciao from Milli
The local Arrivals and Departures Hangar