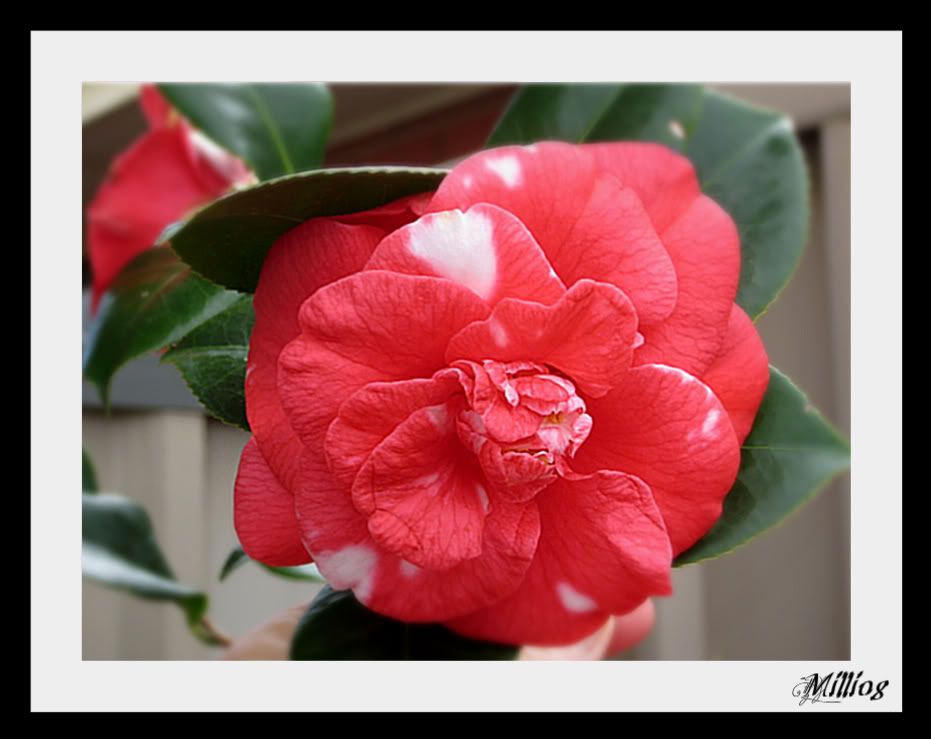 It was officially the first day of spring here yesterday and even though the afternoon was a wet one and thankfully gave us more rain, today is a beautiful Spring day. Birds chirping under a blue sky and just a slight breeze. In the garden buds are appearing aplenty.
I was visiting my mother and noticed her camellia was very much in flower a few weeks back , and so as I do I reached for my little camera and took a few photos of the camellia as we chatted.
Mum has this beautiful 35 year old Camellia Japonica planted in an old washing machine drum and growing oh so well, for the upheavals of relocating to a few different locations over this thirty five year period. From hills to seaside it has successfully traversed in the big old tub and the fact that it is in a tub where maybe it is by now root bound has probably been it's saviour. Not that you would know that it has lived in different places because as you can see by the photos here it still looks pretty good.
I love Camellias and this one called The Czar is quite striking with its dark green leaves and these big double flowers in a gorgeous crimson pink with streaks of white appearing over some of the petals.
A little bit about the Camellia taken from the net:
The earliest recorded information of camellias coming to Australia is towards the end of 1786 when preparations were under way for fitting out the fleet that was to convey the first convicts to Australia. In Sir Joseph Banks list of plants and seeds to be transported to Australia were two tea plants. These were sent on the ship Sirius and came under Governor Phillips direct supervision. No account of the safe arrival of the tea plants or their subsequent cultivation in Sydney has so far been found.
In 1789 two more tea plants were sent aboard the ship Guardian but on Christmas eve the Guardian was lost at sea. When this news reached Britain the Gorgon was fitted out as a replacement. While lists of the plants and seeds sent on the Gorgon have not been traced, it has been assumed that they were the same list to those sent on the Guardian. Phillip Gidley King who returned to Australia on the Gorgon ship, wrote from Sydney in October 1791 that the fruit trees and other plants were all ina very good state on our arrival in Sydney.
While we do not know how successful these efforts by Banks to introduce C. sinensis were, we do know that it had been successfully established by 1796. in that year William Paterson, the soldier botanist friend of Banks who had lived in N.S.W. since 1791, returned to England. William discussed with Banks the plant requirements of the colony and Banks annotated his Guardian list, noting all the plants marked with a pencil tick,Col Paterson tells me are growing in the colony. Tea was one of the plants Banks ticked. So the first recorded camellias to be brought to Australia were C. sinensis in 1791. In 1798 two more tea plants were sent on the ship Porpoise under the care of George Sutter. Sutter bought 18 boxes containing plants. Box 14 contained 2 tea plants, 1 Averhoe, 3 Brucca and 1 Jalope plant.
George Sutter was given a land grant of 186 acres at Baulkam Hills which he names Chelsea Farm. George established the first orchard and nursery in Australia and in a few years was supplying Sydney with fruit particularly oranges and lemons. In 1843 George Sutter published a small book on grapes and oranges, and died May 5 1859.
Though these Camellia sinensis plants survived and lived for a while all of them eventually died.
The oldest tea plant growing in the Botanic Gardens Sydney was planted in 1828 and had been introduced from China in 1823 by John Reeves.
Charies Fraser reaches Sydney in 1816 as a Private in the 56th Regiment. Governor Macquarie placed him in charge of the garden of the government. that was to develop into the Sydney Botanic Gardens and in 1821 appointed him Colonial Botanist.
The following manuscript, Catalogue of Plants Cultivated in the Botanic Gardens Sydney was prepared by Charles Fraser, dated by him January 1828.
Link here to read more from this site
History of Camellias in Australia by John Fowler.
The Camellia surely is a beautiful flower although it does not do as well as a cut flower. It is best to sit the flower itself in a float bowl for the prettiest of results.
I hope that you have enjoyed The Czar and here is a last photo before the flowers yellow off and drop to the ground therein making a very pretty carpet across the earthen floor.
Milli 2008